September 12, 2016 1:15 am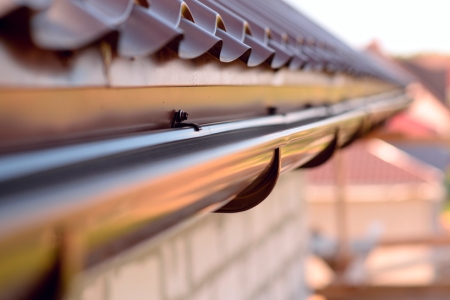 Fall is one of the best times of year to knock out some home improvement projects, especially ones you may have been putting off. Vicki Payne, host of the television program "For Your Home with Vicki Payne," says fall is also ideal for maintenance before colder temperatures set in.
"With cooler fall weather comes the realization that your home will soon experience [colder] weather," Payne says. "To get your house ready, start by giving your exterior a thorough review. Everything should be checked, cleaned up and made ready to handle Mother Nature when she comes blowing in within the next few months."
Payne's checklist:
Assess the roof.
Look for loose or missing shingles, as well as algae, deterioration, mold or splitting. If the roof is in poor shape, consider upgrading to a synthetic roof—the composite product resists elements like fire, high winds and impact. (Hot Product: DaVinci Roofscapes)
Check the doors.
The weather stripping should be intact—this helps keep drafty cold air out.
Check the siding and trim.
Make sure there are no insect infestations or rotting boards (if wood). Should these items need replacement, consider a low-maintenance alternative like fiber cement siding or PVC trim. (Hot Products: James Hardie, Ply Gem)
Clean the gutters.
Remove leaves and debris to avoid back-ups or clogs come winter. Ensure, too, that gutters are securely attached to the home and sloped for proper drainage.
Evaluate the deck.
If the deck looks worse for wear, consider replacing it with Western Red Cedar or composite decking—both stand up to the elements. (Hot Product: TAMKO)
Inspect the garage door(s).
Make sure it is operating properly and has strong air filtration seals. A replacement may be in order if the door is not functioning or aesthetically outdated. (Hot Product: Haas Door)
Seal the windows.
At the very least, ensure the windows have strong weather stripping. Consider installing energy-efficient panes (with the ENERGY STAR® label) to keep heating costs down.
Secure railings.
Loose or unstable railings can be dangerous. Check all balusters and handrails for signs of damage. If it is time for a replacement, consider adding cable rails or glass balustrades for a contemporary finish. (Hot Product: Fortress Railing)
Spend time on landscaping.
Rake leaves as they fall—remove them and any other underbrush from the property before frost or snow arrive. Re-mulch in areas that need it, and trim back bushes and trees.
"Homeownership means continually maintaining the exterior elements of a house," says Payne. "With its cooler weather, autumn is the ideal time to evaluate, upgrade and improve those key exterior elements to ensure your home is ready for the winter months ahead."
Source: For Your Home with Vicki Payne
Published with permission from RISMedia.